History Of The Brittany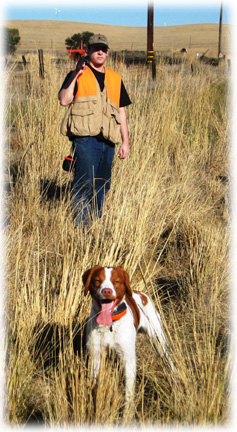 The Brittany takes its name from the province in northern France where it originated. We find no actual mention of the
l'Epagneul Breton
, as it is known in its home country, before 1850 but it is certain the breed is much older. By 1850 the Brittany region in France abounded with spaniel dogs, always brown and white – a miniature French Spaniel. They were wiry, tough individuals with excellent scenting powers. They were excellent cover dogs and had their tails bobbed to preclude injury when hunting the heavy underbrush. They usually belonged to the poor man and were used by the poacher as well as the market hunter. They were, therefore, hunters, guardians of the farmyard, and family pets. Speculation is made about matings with the English pointing dogs whose owners vacationed in France primarily for the woodcock shooting, hunting being more democratic in France than it was in England. This would help account for the appearance of black and white dogs which were evident around 1900. These matings were believed to have been effective in intensifying the pointing qualities of the spaniel while the basic features of the progeny remained essentially Breton. The Brittany was first officially recognized in France in 1907 with the registration of "Boy," an orange-and-white, as the first
l'Epagneul Breton queue courte naturelle
(Brittany Spaniel with short natural tail). The Brittany was brought to the United States in 1931 and recognized by the American Kennel Club in 1934. In 1982, the AKC dropped the word "Spaniel" from the breed's name in recognition of the dog's manner of hunting (being a pointing breed rather than a spaniel). To this day, the Brittany's agility, obedience, and strong nose make it a perennial favorite among hunters and dog fanciers alike.
The American Brittany Club
was organized in 1942 at a meeting in Detroit, Michigan, when a small group of fanciers got together to form a group "to promote cooperation and friendship among the breeders and owners of Brittany Spaniels and to encourage higher standards in breeding, training and showing of Brittany Spaniels in the field and in the show ring; to discourage the breed from becoming split into groups of 'field dogs' and 'bench dogs' and to strive to keep it forever a 'dual dog'." The ABC has been responsible for running the national trials and show each year, inaugurated a Futurity stake for both field and show, instigated Classic stakes on pheasant, quail, grouse and prairie chicken and, since 1950, published
The American Brittany
, a magazine devoted to the breed.