In The Beginning
Beginning in 1936 as Hayhurst Farm Brittanys located in Idaho, later transitioning to Lewis's and Wingville kennel names, the family tradition of Dual quality Brittanys is now manifested in Powder River Kennels. In a breed where there are now over
600 Dual Champions
, we are proud to have been here from the beginning. Although they began breeding purely hunting dogs, the Hayhursts' 1959 breeding of Pauncho El Toro x Speedy Lady of Hayhurst Farm produced three titled offspring: DC Lewis's Ringo, FC Reno Diablo, and FC Thiel's Little Skipper.
DC Lewis's Ringo
was our family's first homebred Dual Champion. Owned and campaigned by Bill Lewis, Ringo became the breed's 60th Dual Champion in 1966. After falling victim to cancer and having to have his voice box removed, Bill Lewis learned to literally keep his mouth shut and employ whistle commands in training and running his dogs. His training methods influenced many around him, including well-known trainer,
Dave Walker
. Though bred sparingly, Ringo produced a Field Champion and a Show Champion. Another son, Kipo's Ringo Star sired Ch. Kathy's Maverick Starlet CD who became the foundation of "K Star" Brittanys in Virginia and can be found behind many of today's top show, field, and Dual Champions. 3 generations later came the family's next Dual Champion, Best in Specialty Show and multiple Best of Breed winning
DC/AFC Wingville's Powder River Pete
. Pete was double-bred on the 1959 Hayhurst breeding, having FC Reno Diablo on his sire's side and DC Lewis's Ringo on his dam's side. Pete's son, Ch. Starline's Zachary Mt Zac was part of the foundation of "Mich Mt" Brittanys in California.
FC Reno Diablo
produced 6 show Champions, 1 Field Champion, and 2 Dual Champions (
DC Cindy's Chico Diablo
and
DC Shot Gun Liz
). Owned by Carl Percell, Reno made a strong impact on the breed. His daughter Ch. Aikin's Holly Diablo was the dam of
American Brittany Club Hall of Fame
inductee,
FC Country Cousin Lost River
, who was widely used as a sire and is found behind many of the breed's top field, show & Dual lines today. DC Cindy's Chico Diablo was grandsire of Ch. Jacques
Prince Valiant
who was one of the top show Brittanys of the 1970s and also a well used and highly successful sire, found behind many of the finest modern Brittanys including the first Best in Show winning Dual Champion Brittany,
DC/AFC Awards Rusty Ridge Jake MH
. Jake's pedigree goes back 4 times to FC Reno Diablo, through both Holly and Chico.
Powder River Kennels Today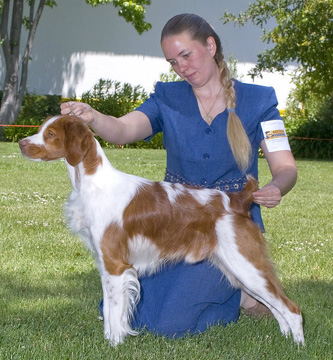 Cheryl Krajcar
Cheryl has been in the sport of purebred dogs all her life. Growing up in a big family allowed the passion to spread, and although not all the members shared the love of Brittanys, some went on to other breeds and venues such as her Aunt Donna raising and training Golden Retrievers for obedience. As a child Cheryl watched so many episodes of "Lassie" that she wished for her own Lassie. After a major surgery that ended her sports activities in her early teen years, Cheryl's parents allowed her to pick out a small sable and white Collie puppy, who she named "Laddie". Cheryl and Laddie would go on to compete and earn titles in conformation, obedience, herding, and tracking. He was her best friend and personal pet. Cheryl met her best friends as she got more involved in dog shows and ventured into professional handling; among the first of her clients was Deborah Cuevas of Quailridge Chesapeakes. When choosing a breed of her own, Cheryl first went to the Flat Coated Retriever, and with help from many breeders she developed a top line under the Powder River kennel name, producing 12 American & 9 International Champions. But as her family started to pass on, Cheryl turned to her family heritage in Brittanys. Her first Brittany became a Champion in 2006 and Master Hunter in 2008, as well as earning a herding instinct certificate. Now semi-retired from professional handling and grooming, Cheryl has been focusing on campaigning her Brittanys in the ring and the field. Her first Field and Dual Champion earned those titles in 2012.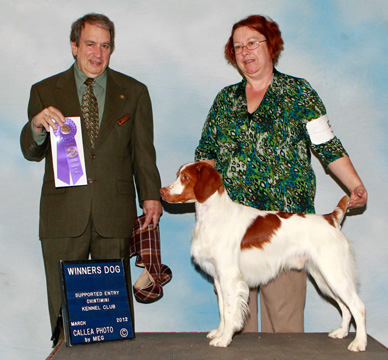 Karen Tye,
Kennel Manager
Karen has loved animals since she was 5 years old and tried to make friends with the dog down the street. She has been pursuing that love throughout her life. She was involved in 4-H for many years, training dogs and showing rabbits, lambs, and one steer. She has been a Registered Veterinary Technician since 1984 and has worked in general practice as well as specializing in emergency care now. She has done kitten rescue over the years as well. Karen started showing dogs at the age of 14, when her dad introduced her to a co-worker who bred and showed Samoyeds. She has competed in conformation and obedience, and had multiple breed and Group winning dogs. She got her first Brittany in 1987 and was hooked from the start. Jack was not a show quality dog and he didn't care for birds all that much, but he was the best dog she'd ever had. The versatility of the Brittany has made it a breed she recommends to everyone. Karen met Cheryl at a dog show, and joined the kennel in 2007. Two of their co-bred dogs won Best in Futurity and 3rd Money Male at the 2012 ABC Western Futurity Show, a breeder's stake! Karen now has Brittanys in various stages of competition in show, field, obedience, and rally. She enjoys being able to show her dogs from the Bred By Exhibitor class once again, and will continue to send out her dogs out for field training and competition with a professional trainer since she can't do it all herself.